Balconies might be small, but don't let that stop you from creating your own garden. In fact, a balcony can be one of the best utilized spaces in an apartment with a little bit of creativity and efforts. And, the best utilization, indeed, is transforming the space into your mini garden which is appropriately rich in greenery and adequately beneficial in terms of health benefits. Balcony gardens are new urban lifestyle trends and a wonderful way to bring some greenery and nature into your living space.
Purposeful Balcony Gardens
Making an apartment balcony looks impressive has been a usual exercise of décor. However, wishing to have a little nature inside of one's home remains a very common dream. Thats why, residents desire today their balconies are being supportive and purposeful too, mainly serving a connection to the nature. A balcony garden is, therefore, no stranger to urban apartments. Those are living in a big city where a courtyard or backyard aren't available, balcony gardens provide them daily dose of green energy. They can pack their terrace with a variety of potted plants, lush shurbs, scented herbs and hand-painted planters to give it a feel of a backyard what they always wished.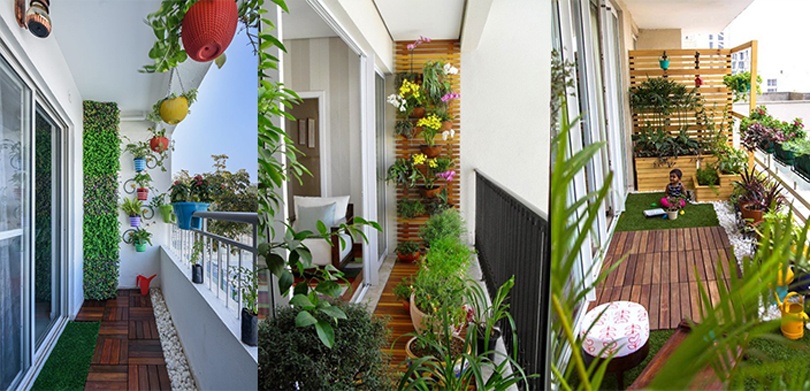 Besides, if you want to enjoy your evening tea or the sound of the rain in the comfort of your balcony, you just add a convenient seating space. While one way to create seating is to install a bench or chair into a groove in the wall, another method is to keep foldable plastic chairs inside the home that you can pull out to the balcony when needed. The idea will just simply give your balcony garden a touch of class.
The Power of Green
Green is a very cheerful color with a strong sense of familiarity. It evokes a feeling of abundance and is associated with refreshment and peace, besides helping people feel rested and secure. Which is the reason, it is a great representative of nature itself. Having a variety of  plants on the balcony will fill the space with that recognizable charming green vibrancy.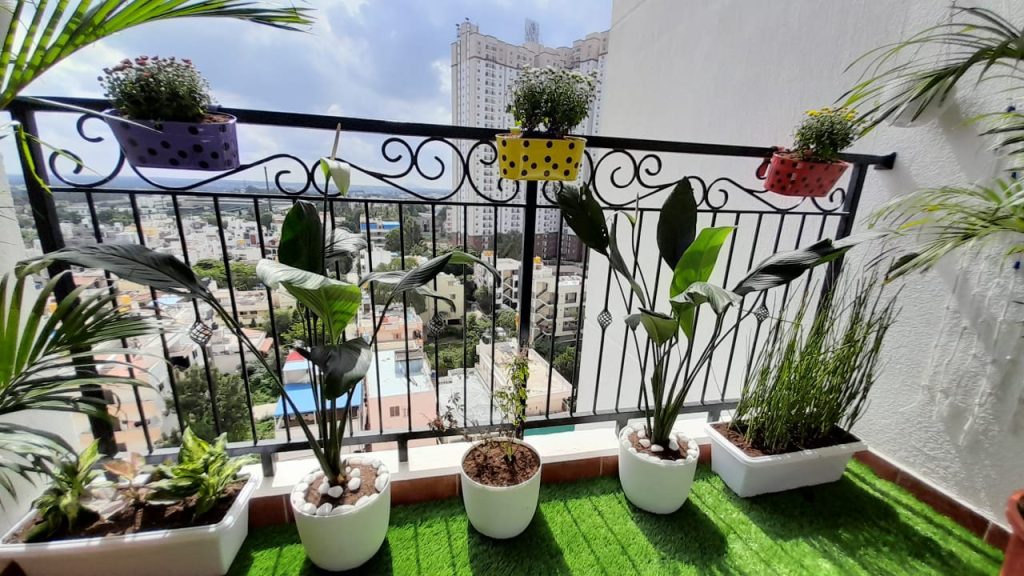 However, one of small balcony décor ideas is to a kitchen garden in your balcony so that you'll have fresh vegetables to use in your meals. Alternatively, you can choose evergreen plants like Money Plants, Palms, Aloe Vera, and others, which will not require a lot of sunlight to stay fresh and healthy all year round. A balcony garden, once it is fully blooming, can obscure much of your small outdoor areas. The shield created by greenery establishes a more intimate and secure space, giving you privacy among the big apartment complexes.
Their Urban Impacts
More importantly, a balcony garden is not just a method of bringing nature into an urban area, it's also a great way to create an oasis within the city. The green terrace will have cooling impacts and help in reducing the temperature of your surroundings and serves a bearers against heat wave to land at your home. In a word, it becomes an organic sanctuary which provides inhabitants with peace and serenity without having to drive out of the city for it.
By
Editorial, Infocus