The 26th of November 2021 was a dark day of Pakistan economy when police baton charged on the business community in Karachi. In that incident more than two dozen people injured, who all are the office bearers and members of Association of Builders & Developers Pakistan (ABAD). ABAD had already stopped construction activities in protest. But with that unfortunate attack on builders' community, alongside the uncontrolled surge in construction material prices and phenomenal uptick in land cost in the country, the future of (affordable) housing sector looks bleak. Because if the trend continues, the demise of construction industry is certain in Pakistan.
Attack on Construction & Housing Developers
The year 2021 definitely isn't a good year for construction and real estate development in Karachi. On May 21, 2021 a group of violent protestors attacked on Bahria Town Karachi developments and burnt the entry gate and demolished various commercial properties inside the mega real estate development scheme. Six month later another protest held in Karachi by developers' fraternity itself in front of under-demolition Nesla Tower, but this time police and paramilitary forces attacked on protesters using baton charging and tear gas shells. It is really mind-boggling because with two different sets of building & development by-laws, there is no longer remain any level-playing field for construction activities in Karachi.
Baton Charge on ABAD' Members
According to the details police and rangers resorted to baton-charge and fired tear gas on residents and builders protesting outside Karachi's Nasla Tower, questioning the building's demolition on Supreme Court's orders. The apex court has directed authorities to raze the building for encroaching on land meant for a service road. But, were the protestors gathered to stop the demolition exercise of Nesla Tower? No. They were gathered outside the under-demolition Nesla Tower, primarily questioning and protesting against the uncertainties of building approval procedures in Karachi.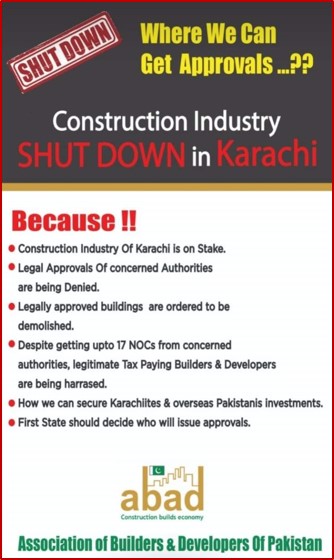 The official version of the Police regarding attack is that they "resorted to baton-charge after protesters blocked the road and interfered with the work of public servants," However, the Chairman ABAD Mohsin Shaikhani maintains that residents and members of ABAD were staging a peaceful protest when the whole "drama" started. "They baton-charged us, hit people and used tear gas," he reveals, adding that the business community staging the protest just wanted to communicate its point of view regarding the uncertainties of building approval process.
An inquiry on that unfortunate incident is, however, needed by higher authorities. But that isn't the only reason for the speedily-downfall of construction industry in Pakistan.
Construction Package 2020
Last year Prime Minister Imran Khan launched the Construction Package 2020, offering unprecedented incentives to construction industry. The aim of the Package was to revive the economy of Pakistan by running the wheel of construction activities and 100 plus allied industries related to construction. Besides, he vowed to promote incremental housing in Pakistan via developing 5 million houses, mainly for low income strata of the society.
Surging Construction Material Prices
But since the launch of the Package the government has been found unable to contain the continual price escalation of construction materials in the country. That has led the Constructors Association of Pakistan (CAP) to publish an advertisement last month, revealing their inability to execute their business.
According to CAP the prices of construction materials has increased by 76% from March 2020 to October 2021. As price increase of major items are Steel Rs. 183,000 per ton, cement is 730 per bag, bitumen is 130,600 per ton, doors/windows is Rs. 825 square feet and cable 10mm2 is Rs. 211/ LM.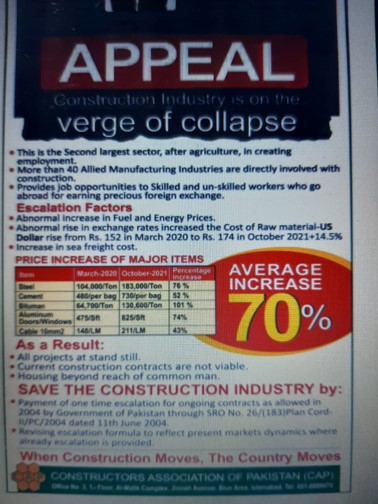 As a result, construction on all projects across Pakistan is in the state of inertia at the moment. Besides, the current construction contracts are no longer remains any viable and housing has gone beyond the reach of common man in Pakistan.
Rise in Land Cost
Another significant obstacle is the extraordinary rise land prices in urban areas which have been surged by 40-50% in the last three years. The prices of property in the metropolis have skyrocketed with an unprecedented increase, making it impossible for the common man to own a property.
Interestingly, prices of properties have increased even in areas where basic facilities like water, electricity, and gas supply are unavailable. However, the population of the city is rapidly increasing due to the influx of people from other parts of the country and their inability to find affordable housing is just adding irregular construction and encroachments on public and private properties.