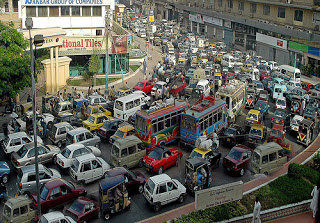 Accessibility to comfortable commutation, smooth traffic flow and safe transportation are keys for environmental civics in megacity like Karachi. However, since the last few months commuters from all walk of life are facing extra ordinary traffic jam in evening hours which has made the city environs extremely horrible, hectic and burdensome. The traffic police of the city under the directorship of DIG Traffic Police Asif Ijaz Shaikh, issued a recent report pointing out key reasons behind this traffic jam and they are as fallows;

Damaged Roads
Karachi is ranked 7th in the biggest megacities of the word but ranked also 4th with the highest number of road crash facilities. A recent study reveals that 33% of road crashes in the city are caused by erroneous road designs while 42% of the city' population is under high threat of road accidents, noise and air pollution. Roads are also got frequently damaged because of utility leakages and sometime nearby people also dig themselves for their pity interests. Yet patchy and uneven road networks are one of the main causes of traffic jamming and accidents in Karachi.

Encroachments
The DIC Traffic specifically mentions the illegal parking outside a leading mega Super Store at Qayyumabad that disrupts traffic. However, illegal parking is a common feature nearly all mega super markets and malls of the city. Apart from unauthorised parking these are the illegal encroachments outside almost every mall and supermarket in the shape of carts and road-side cabins which are causing hustles in traffic movement. Moreover these encroachments are regular features of busy cosmopolitan areas like Saddr, Tower, Liaqutabad, Malir, Korangi, Qaidabad, Banaras, Shershah and etc. These obstacles in free traffic flow can be removed and the mayor Karachi also recently suggested special Hawker Zones in various areas to accommodate carts and cabins, yet it would not be enough as a solution.

Sewage Fuss
Nishter Park signal, Guru Mandir, Nazimabad, Gulshan e Iqbal, PECHS and Sadder are usual areas in the city where sewage leakages are common. This sewage water on roads reduces the acceleration of traffic flow and also causes accidents in rush hours. Besides sewage water, tons of solid waste and mounts of garbage alongside roads is also a reason which is a nuisance in commutation and environment.

Absence of Parking areas
Not only in markets at old city areas the parking spaces are unavailable, but also the provision of parking has not been kept in mind in newly developed markets, hospitals, education institutes and business offices. Similarly areas like Sakhi Hasan, Korangi Creek turn and Rashid Minhas Road where series of marriage halls and lawns are situated the facility of parking are not provided.
Under-construction Developments
Long queues of vehicles are daily witnessed on multiple thoroughfares in Sadder, Tower, Gulshan e Iqbal, Malir, Gulistan e Jauhar, F B Area, Nazimabad, New Karachi, Sher Shah and Korangi. The DIG Traffic himself points out that development works are underway in different areas of the city too was one of the causes as vehicles had to diverted to other roads where massive traffic jams are already occurring. In the six Karachi districts simultaneous reconstruction of 20 different roads including Shahr e Faisal, MA Jinnah Road, University Road, Rashid Minhas Road, Sir Shah Suleman Road, Stadium Road, Tariq Road, Jahangir Road, Mauripur Road, Green Line Bus and National Highway cause traffic gridlock and severe hardship and agony to a large number of motorists and commuters.
These above are the reasons asserted in the Traffic police reports, yet there are other key untold reasons of traffic jamming which were missing in the report. These untold reasons are

Peak Hours Rush
Traffic police and urban planners of various civic bodies in the city has failed to identify any acceptable solution of peak hour rush on the roads. Largely the city' commercial hub that includes wholesale markets, traders, shipping sector, head offices of commercial banks and Corporations are situated at the south of the city so catering this one-dimensional movements of traffic should not be any rocket science. Traffic authorities have tried out orthodox solutions so far including widening of lanes and manual traffic controlling but that's not enough for megacity traffic management, they will have to come up with some modern modules with strict implementation of rules.
VIP Movements
Traffic flow in Karachi is just like circulation of blood in human body. If any clot comes in the way, the pressure will build on other areas and it will affect the entire system. Police and other law enforcement agencies always avoid to comment on VIP movements, which forcibly put a halt on traffic flow at a particular section of the road and denies commuters including ambulances to travel to their destinations. Usually the areas are largely affected by VIP movement are Shara e Faisal, Abdullah Haroon Road and Clifton but when the circulation of traffic is stopped there the effects of this blockage can be seen throughout the city.
Heavy Traffic
Regulations are already existed which proscribe heavy vehicle movement in the downtown in day time, but traffic police authorities often exercise these regulations only when and where they like. As, presently the higher ups of traffic police has enforced ban on heavy traffic in day time in limited areas like Clifton, DHA, Shara e Faisal, Baldia, Korangi, Malir, Landhi and etc where development works are not underway while area like Sadder, University Road and Nazimabad were exempt from this rule. Therefore this regulation rarely bring any smoothness in traffic flow. Heavy traffic specially containers, dumpers and tankers must be strictly banned during daytime in city which are not only causing traffic jam but are dangerous in terms of accidental events.

Regular rise in vehicles
Although there is no as such accurate data but traffic and excise departments blame that more than 3 million registered vehicles on road are contributing to traffic problems. But independent sources claim that there are nearly 5 million registered and unregistered vehicles in Karachi. While more than 16,000 new vehicles arrive monthly in the city and besides that thousands of vehicles enter in and depart the city daily. Urban planners do not plan transport strategies keeping in mind these unforeseen number of vehicles.
Absence of Mass Transit Program
Above them all a mass transit system is urgently required to make the urban transport system more sustainable and safe. Only thereafter we can hope a Karachi which would be a manageable, commutable and livable city.
By Editorial, Infocus