The air pollution levels in Karachi are getting extremely high, unhealthy and dangerous with each passing day. A thick layer of grey misty atmosphere between city landscape and sky can be witnessed in above picture, shared in a Whatsapp group "Climate Action- Karachi" last week, depicting the severity of situation. According to the University of Chicago inhabitants of Lahore have already slashed their life tenure by five years due to hazardous air quality, primarily winter smog. And, Karachi is not far away as since the last three months its air quality has been recorded near 200 averagely, termed "very unhealthy" as per Air Quality Index (AQI). That's alarming and asks the higher ups, mainly new Administrator of Karachi Metropolitan Corporation (KMC) Dr Saif ur Rehman to take up the issue at top priority.
Karachi' Poor Air Quality
No denying, environment and climate change is a provincial subject, but in a city of more than 25 million residents its environment is heavily reliant on the metropolitan services, municipal functioning and development of civic infrastructure. Besides, the local government plays a pivotal in city' afforestation, fumigation and public parks to maintain clean atmosphere and air quality.
When Murtaza Wahab took up the charge as Administrator KMC in August 2021, Karachi needed immediate attention. He was reminded in these pages what he could do to restore environment of the city. The former Administrator rarely gave any attention to green infrastructure and urban environment. A number of public parks ruined or encroached and massive deforestation was carried out in Karachi on the name of development. As a result, unprecedented urban flooding this monsoon, unendurable heatwave, and poorer air quality were recorded in his tenure.
Dilapidated Urban Infrastructure
After taking the charge up, Dr Saif ur Rehman' first order was to repair roads in the city. The city infrastructure is already in dilapidated conditions these days with major roads are under construction or left dug-up for unknown period. That has increased toxic dust particles in the already polluted air making the atmosphere very unhealthy and unlivable. Major development projects like Malir Expressway and private high rise buildings are being constructed without approval of Environment Impact Assessment (EIA) and bypassing building safety bylaws, which is a grave irony. These construction works contribute to 23% of air pollution and 50% of climate change, making air and atmosphere unbreathable and unhealthy.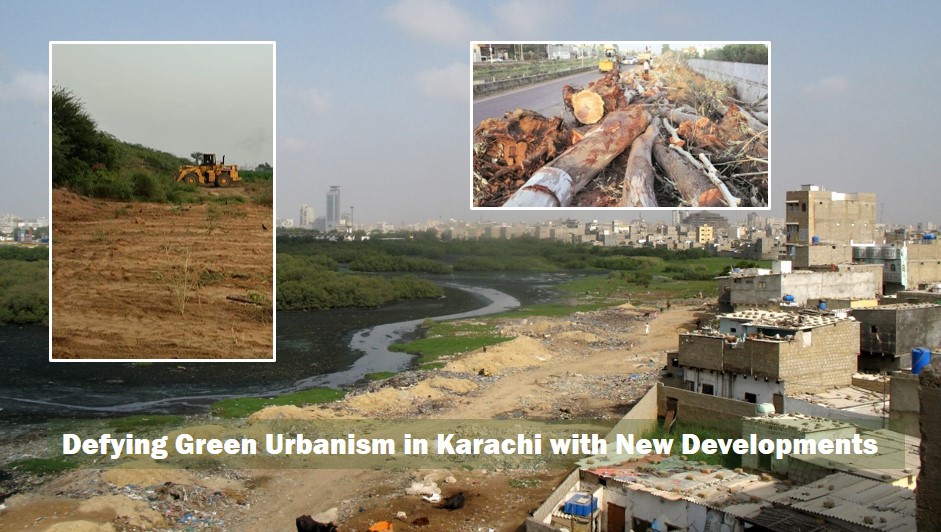 However, Dr Saif has a good repute of turning public administration green and he has done incomparable works to maintain greenery and restore public parks in the city during his previous postings. It was his untiring efforts and uncompromising role which make the Kidney Hill Park one of the top green attractions in the megacity. He recently visited Aladin Park and vowed to restore its greenery and serene ambiance, besides opening of recreational area for citizens.
Parks & Greenery; As Solution
Aladin Park had been encroached for commercial activities some years ago but in June last year following the orders of the Supreme Court the anti-encroachment cell of the KMC demolished the illegal shopping mall and club insde it. Now the Alladin Park is being reconstructed on the direction of the Supreme Court and after completion, it will be reportedly given the name of Jinnah Park which will provide recreational facilities to Karachiites.
Dr. Saif has recently directed the Director General of Parks & Horticulture not to keep a single plant in the KMC nurseries and plant them on required places as soon as possible. Thousands of saplings are therefore, being planted on various roads and roundabouts of Karachi to give metropolitan a clean and green outlook, and that is a positive development.
However, without check on vehicles' emission, solid waste mismanagement and marine pollution the air quality index of Karachi cannot be improved. The Administrator KMC unfortunately has no authority in these issues under SLGO 2013, but Sindh government is expected to devolve major functions to KMC in coming days, as reported. That would empower Administrator or local government to better the environment and air quality of the city which is in "very unhealthy" state. Although, it is not as lethal as of Lahore, but toxic emissions from vehicles along with tons of asphalt and concrete have made Karachi prone to heat island effect, causing hundreds of deaths annually.
By
Editorial, Infocus