There is no denying Karachi needs better roads and transport developments, but it is also true that all new construction projects in the megacity do not fulfil the requirements of green urbanism and environmental protection. The population and unchecked migration in Karachi is undoubtedly is growing. The UNDP Sustainable Development Goal #11 asks all nations to build modern, sustainable cities to accommodate everyone. "For all of us to survive and prosper, we need new, intelligent urban planning that creates safe, affordable cities with green and culturally inspiring living conditions." Unfortunately, ongoing developments in Karachi do not fulfill this requirement and defying blatantly the concept of green urbanism altogether.
Green Urbanism
Green urbanism is an attempt of sustainable urban design which creates eco-friendly cities and cut waste and emissions, use sustainable construction materials, and promote electrified mobility. There are two mega development schemes continued in Karachi at present and both are related to transport and communication. The Malir Expressway and the Red Line BRT project. It is an irony that both are being continued without approved Environment Impact Assessment (EIA) report. Besides, both are openly confronting green urbanism in the city.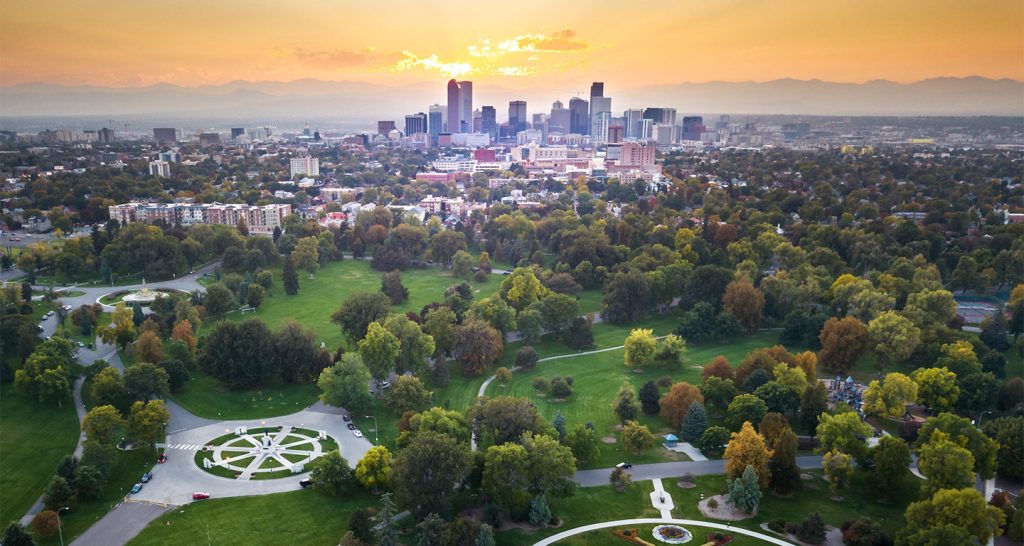 Malir Expressway & it's Environment Impacts
The Malir Expressway is a US$160-million project. The construction is underway without any ecological impacts study. The expressway will skirt the right bank of the Malir River, through a district threaded with smallhold farms held for generations by the Sindhi and Baloch tribal communities. Green and fertile and filled with "cooling neem trees," notes ICN, the Malir district is commonly referred to as "Karachi's oxygen." But the construction along the river bank is destroying orchards, farmlands and vegetation in the area.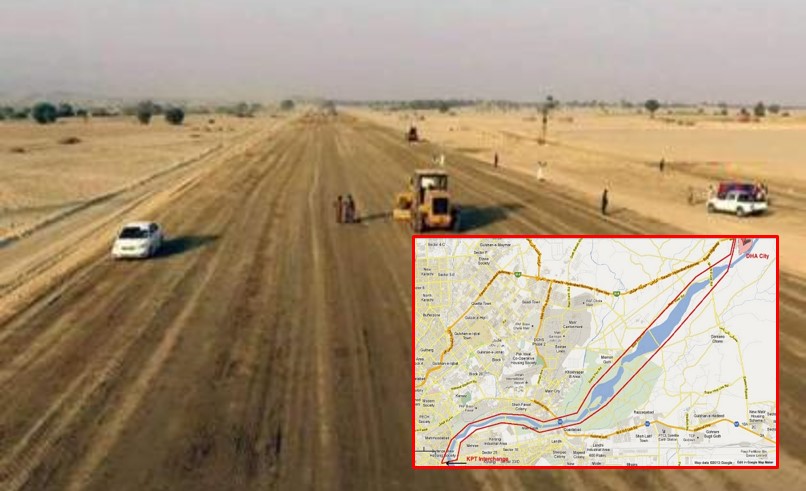 The project really needs an honest sustainable assessment. It is not only about the people living in the area, but is also about the agricultural capacity of Malir that is at stake now. The EIA report already mentions the project would affect over 2,330 acres of agriculture land where vegetables and fodders are cultivated. Some 1,800 to 1,900 plants and trees of different forms will also be removed. But environmentalists rightly argue the cost of loss of ecosystem is much more than what is written in report.
Red Line BRT Project & Loss of Green Cover
The Redline is a 26.6km long Bus Rapid Transit (BRT) project from Model Colony to Tower. It is a $504 million project funded by multiple agencies including the Green Climate Fund. However, in May two lawyers petitioned the SHC stating that its track would be laid down at the cost of cutting down 50,000 trees. As, at first in May this year large number of trees located between Check Post No.6 and Tank Chowk within the jurisdiction of the Malir Cantonment Board were cut down. Thereafter, in September dozens of trees, including local species, were cut down in front of the NED University and only a handful trees were selected for relocation. The removed species were of the native neem and conocarpus. Both were planted at least two decades ago by the forest department on the Malir cantonment board's request. Besides the two, a number of lignum, Sumbal, Gul Mohar, Peepal, coconut and date palm were also removed which is said to be relocated.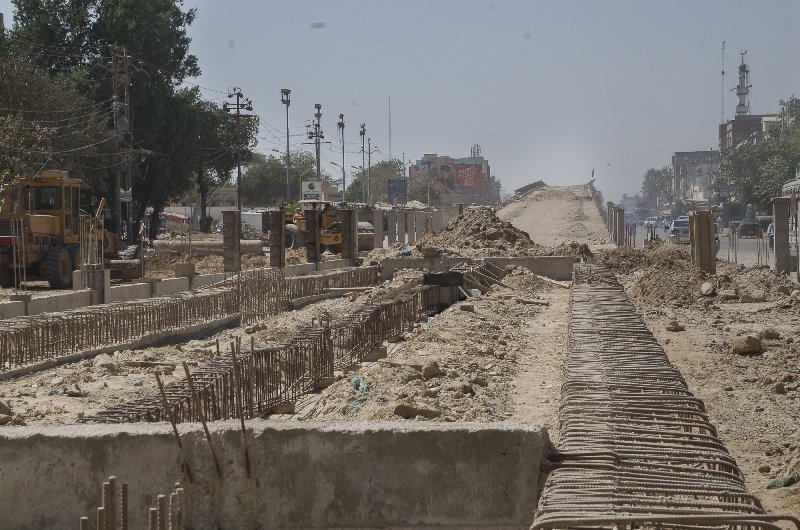 The developer pledges to compensate for the loss, 50,000 trees — each having a height of five feet — would be planted along the bus route and in some other areas of the city. Experts, however, believed that tree relocation and the new plantation planned under the project would in no way make up for the green cover loss. The survival rate of relocated trees is too low. Second, new plantation can never match the high rate of carbon sequestration and oxygen emission of old trees, which have deep root system," contended senior ecologist and researcher Prof Zafar Iqbal Shams, adding that the sudden loss of tree cover would adversely affect the environment.
Deforestation in the Name of Development
Prof Zafar Iqbal Shams, a senior teacher and researcher at Karachi University's Institute of Environmental Studies says new plantation can never be a substitute of old trees. "We must understand that trees take years to get mature and planting saplings couldn't be described as their replacement. Even the fast growing conocarpus takes at least 10 years to get mature." "It's a loss that we can't even quantify. Trees serve us in multiple ways, most importantly by absorbing air pollution, releasing oxygen, reducing temperature and improving diversity."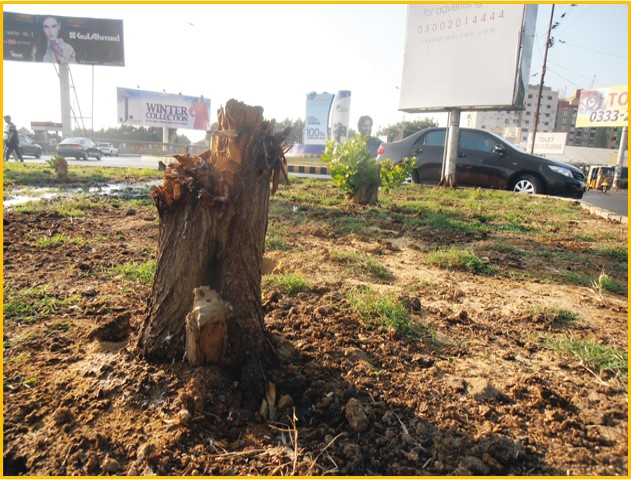 Prof Shams regrets that instead of growing more trees to mitigate the impact of rising temperature in the city, the government has opted to remove the already established plantation, ignoring what's happening in other parts of the world where countries were engaged in massive tree plantation and conservation campaigns.
Concrete Plants within City
Green urbanism has been outright defied in Karachi, when it's matter of development. Not only uncontrolled deforestation, the footprints on above projects are not greener and gentler. The constructors have built concrete plants at the sites overruling all environment regulations. While the heavy construction machineries and building materials are destroying civic infrastructure and polluted air quality in the vicinity respectively.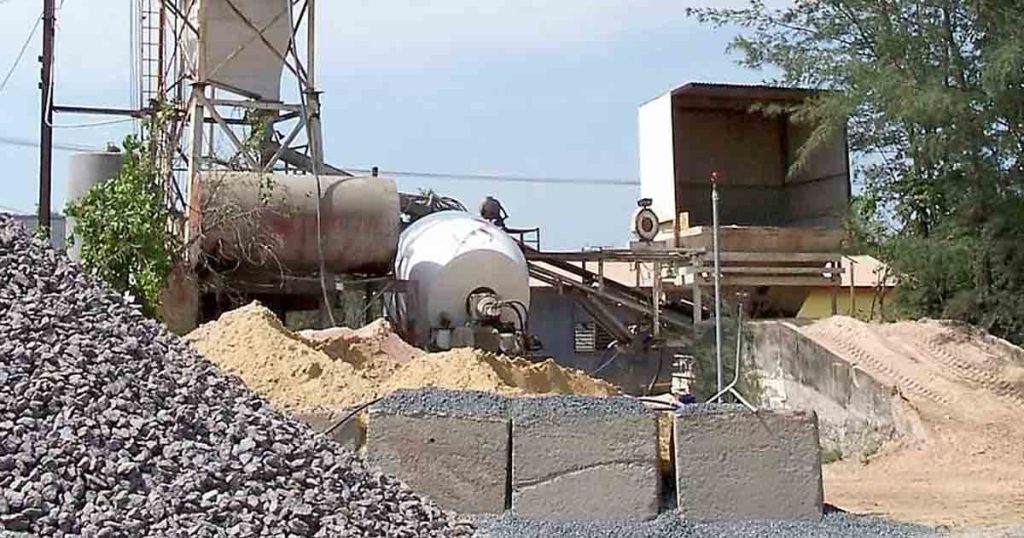 Green urbanism makes cities safe and inclusive with resilient and sustainable housing as well as transportation, reducing environmental impacts and disaster risks. That requires to work with nature, not attempt to subdue it. Because agrressive construction and inappropriate engineering against the nature leads to nothing, but unsustainable development.
By
Editorial, Infocus