Construction activities can negatively impact the environment and public health, if carried out in residential neighborhood. That's why, strictly preventive environment and building bye laws are required to be taken for construction works to avoid untoward perils and consequences. But these bye laws are blatantly bypassed in Pakistan, especially Karachi for greed and disregard. An obvious example is the installation and operations of big numbers of ready-mix concrete plants in various residential neighborhoods in Karachi. These plants and their associated heavy machineries must be situated away from populated areas, however in the metropolitan, they are operating in the downtown and deteriorating the environs of residential neighborhoods and health of inhabitants.
Pollution by Ready Mix Concrete Plants
A ready mix concrete plant includes plants that measure, store and transfer concrete constituents in to the truck for transportation to a job site, to central mix drum and to precast products on site. The raw material used includes sand, cement and water. During this process, plants emit a lot of dust, particulate matters and other air pollutants to pollute the atmosphere. Their impacts on nearby residential areas are more deteriorating and harmful. As, emissions from plants, truck and mixer loading, vehicle traffic and also from wind erosion, contaminate nearby water sources and destroy the public infrastructure as well as traffic congestion.
Concrete Plants in Residential Neighborhoods
A brief example of above violation is the Jafico Ground located near Landi Kotal roundabout in North Nazimabad Block L. The park was well maintained till 2021 as plants, flowers and benches were installed for area people. However, construction works, heavy machineries, building materials and a concrete plant have destroyed the park, while construction activities still continue unabated. Residents of North Nazimabad have complained that and despite the order issued by the Sindh High Court to restrain the Frontier Works Organisation and local administration from occupying the Jafico Ground, the park hasn't been cleared yet.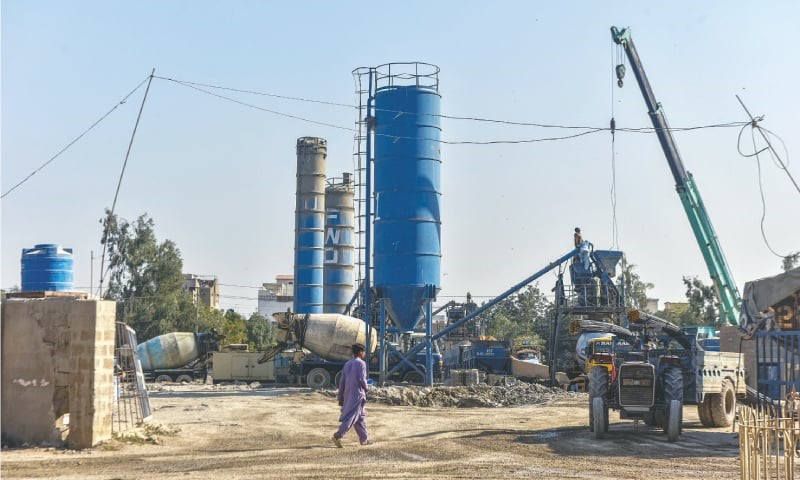 There are two more obvious examples of concrete plants working in residential neighborhoods in recent times. Concrete plant in Gulshan e Iqbal behind Alladin Park, which is out and out a residential locality. The plant was installed some time ago alongside Rashid Minhas Road by local contractor to supply ready-mix for Red line Metro Bus Project. Although, the work on Red Line is stopped since nearly half a year because of lack of funds by Sindh government, but the concrete plant is fully operational supplying read-mix concrete continuously to all over Karachi.
Another concrete plant is located in Gulistan e Jauhar, assembled a year ago by the constructors of Jauhar Chowrangi flyover. The plant is located in Block 1 and in the middle of more than two dozen elementary and primary schools. It is hard to digest, how the city administration including KMC, KDA and local police didn't take notice of this violation, where the lives of young children and health of area residents are at risk.   
Endangering Public Health
Pollutants emitted by a concrete plant are one of the worst form of construction pollution. The large amount of construction dust from cement, concrete, silica and sand are collectively classified as PM10. PM10 is particle matter less than or equal to 10 micrometres in diameter, invisible to the naked eye.  Besides, the diesel engine exhausts of plant and other vehicles is also a large contributor to PM10 emitted at concrete plant sites. Their impacts on public health are serious, causing respiratory diseases. As residents often unknowingly breathe them in and may then develop cough, shortness of breath, asthma or allergies. Both plants and animals also struggle to thrive as a result of this contamination, causing loss of biodiversity and disrupting the food chain.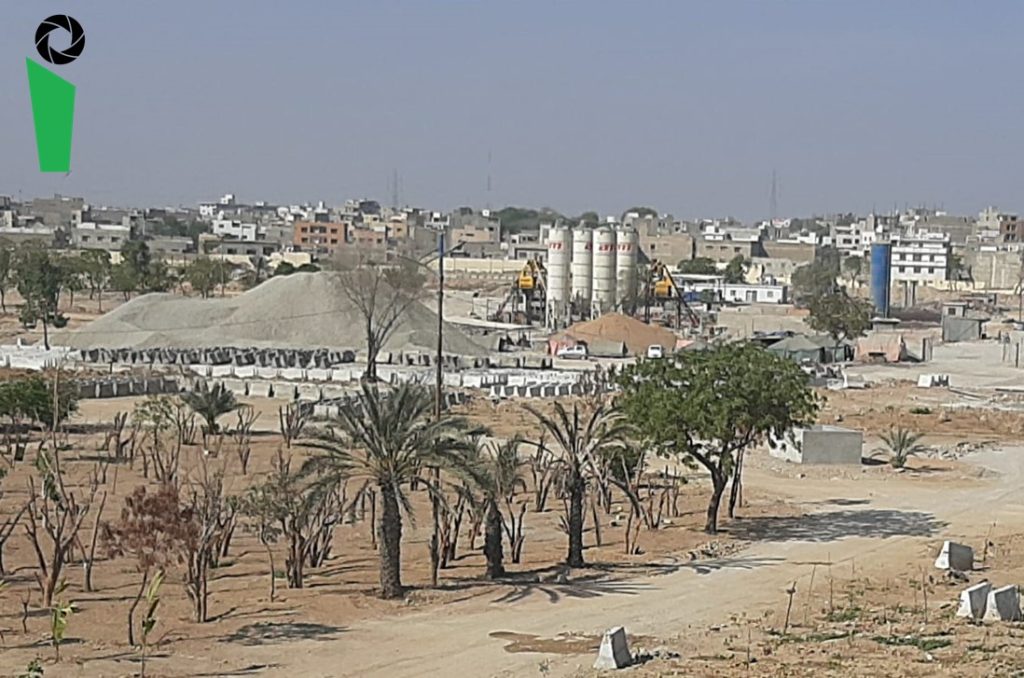 Bye Laws for Concrete Plants
It is also unfortunate that construction bye laws related to operation of concrete plants are neither specific-oriented nor written clearly in detail. For example, the Karachi Building & Town Planning Regulations 2002 only mentions use of Concrete Plant in the Clause 11.11 as "In order to achieve quality concrete of required strength of safe, sound and stable structure owners (builder shall use ready mix concrete from batching plant for construction of buildings, Ground plus five upper floors and above is mandatory and it will applied in all regions of Sindh)."
However, when the construction work is completed or suspended there is no need for concrete plants being operational. In relation to that the Clause 8.5 about Removal of Obstruction after Completion of Works, clearly states "All obstructions shall be removed within 7 days of completion of work and the street and all drains and public utility installations shall be left in clean, tidy and in serviceable conditions."
With concrete plants in residential neighborhoods, not only local residants are deprived of recreational and sports facility in their area. But also the operation of a construction site within the premises is a gross building bye laws violation, causing environmental and health problems for people.
By
Editorial, Infocus