The appointment of Murtaza Wahab as the Administrator of KMC may bring good fortunes for Karachi pertaining to its environment and civics affairs. He has been serving as Advisor to Sindh Chief Minister on Law, Environment, Climate Change & Coastal Development at the time of his appointment, and as nobody has replaced him yet it is likely Murtaze Wahab will carry on that charge too. Therefore after becoming Administrator, he is now in better position to ameliorate environment and sustainable development in the megacity and enforce all dormant regulations related to Karachi' civic management, ecological infrastructure, biodiversity and marine life.
Devolution of Environmental Affairs
One of the reasons of environmental degradation in Pakistan is the absence of devolution of environment and climate change portfolios at local and district level. Legislation about climate change and environmental issues is only carried out at federal level and policymakers remain unaware about the needs at grass root level. The local governments are totally dependent on funding and policies from top-tiers, therefore hardly carry out legislations by themselves keeping in view the urban climate and local environs. While in various provincial governments the ministry of environment and climate change is senselessly interlinked with forestry or wildlife. The result climate change policies rarely cater the demands of cities in Pakistan to attain sustainability and ecological stability.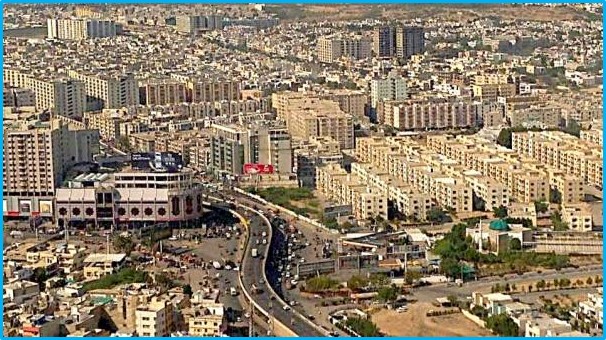 The environment of a city like Karachi heavily reliant on the metropolitan services, municipal functioning and development of civic infrastructure. It was an excuse by former mayor and administrators that as major functions of local government have been transferred to the Sindh government like solid waste collection, building controls and master plan, there is nothing left for KMC to avoid deterioration of the city. However, there are still a numbers of major responsibilities and functions related to civic management and environment furtherance, if taken seriously scenario can be changed in Karachi.
Municipal Sewage
There is strong connection between sewage flow in drains and marine pollution in Karachi. About 400 million gallons of untreated waste water goes directly to the sea. Don't let this liquid waste flow to the Arabian Sea. Adequate check on cleaning and flowing of city drains is necessary by not let dumping and burning of garbage in storm water drains.
Karachi needs nearly 5 million trees to maintain its green cover and this cover must be spread over at least 25% area of the city. Unfortunately because of deforestation on the name of asphalt or concrete development the green cover of Karachi has been reduced to 5% in the city. Control this deforestation and restore parks and green belts to cool the temperature of the city.
It is the core responsibility of the KMC to protect people from seasonal epidemics. The city really need fumigation drive after partial rain in July and Karachites continue to suffer the miseries left by recent rains. The fumigation is necessary to control the outbreak of dengue and malaria.
Although most of functions of water supply and management are rest on KWSB, but the new Administrator can ensure the purity and quality of water in the megacity. As, collected samples of water in Karachi contained significant amounts of iron, lead and nickel, along with arsenic. According to the researchers, the source of the contamination was linked to the untreated industrial waste being dumped into the storm water drains and the mixing of sewerage lines with water lines.
Hospital wastes are largely discarded without being treated, that spread infections & diseases. In Karachi 50 major public hospitals including of KMC' generate around 100 tons of infectious medical waste in every 24 hours. Without proper disposing hospital waste, bacteria & viruses absorb in soil & atmosphere to contaminate water & air respectively causing diseases. This waste needs careful segregation & handling before disposing off.
Beaches in Karachi, especially Clifton, are littered with plastic pollution contributing to around 50% of total garbage found on the beach. This non-degradable pollutant is seriously affecting marine life along coastal and offshore waters. If plastic bags, bottles, toys and packing material are not disposed of properly, they reach the sea and damage coastal system.
By
Editorial, Infocus